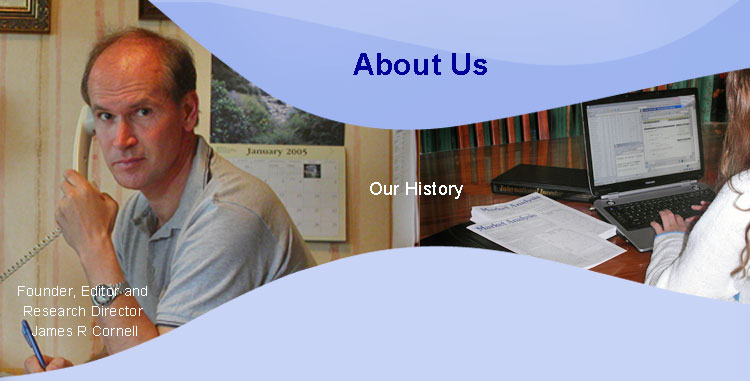 37 years of stockmarket success!! Securities Research Company and Market Analysis are 37 years old in 2018!

Our founder, James Cornell (now living offshore in a more tax friendly country), began investing his own money in the stockmarket in 1971 (at age 12 and starting with his entire net worth of just $500).
While a student at Auckland University from 1977-1980 he spent much of his time independently studying all forms of investment - and concluded that the stockmarket offered investors the best opportunities to build wealth.

In 1981 a NZ registered company, Securities Research Company, was established to continue his research and to provide the independent research and unbiased advice that James needed to manage his own stockmarket investments.

In March 1981 the "Market Analysis" newsletter was published to share that work with other private investors.
International investments were covered from March 1985, with coverage expanded and transferred to "International Investor" in January 1996.
Australian shares have been covered in "Market Analysis" since February 1994.
Our share selection database was established in 1981 and made available to other investors via the Internet from January 2003 with the Online Share Selection service.
In late 2004 we began offering an Individually Managed Portfolio service for a small number of investors who were unable to manage their own investments.
In late 2006 the business was restructured and now operates through a new Securities Research Company Ltd, incorporated in the British Virgin Islands.
Extremely Successful Investment Track Record
Over the last 37 years Securities Research Company has built up an extremely impressive track record of successful investment on the NZ and Australian stockmarkets and internationally.
Just as importantly - having followed every recommendation ever made to subscribers - our own share portfolio has increased 500-1000 fold in value since 1981.
We aim to analyse the stockmarket in an intelligent and scientific manner - consistently applying sound investment principles and practice in the search for superior long term investment returns. We generally avoid the popular, over-valued shares and instead search for out-of-favour, under-valued shares or emerging growth companies that have not yet been "discovered" by stockbrokers and institutional investors.
Check out our FULL track record for "Market Analysis" recommendations (for the 1980's, the 1990's, 2000's and 2010's) and "International Investor" recommendations for yourself. No other investment advisor in the world dares to publish their full track record on the internet!
Independent Research and Advice
Securities Research is a completely independent stockmarket research company. We are not stockbrokers and do not manage other people's money. All subscribers retain and use their own stockbrokers. All of our revenue comes from newsletter subscriptions. So our advice is always 100% independent and unbiased.
We Put Our Own Money In Every Recommendation
We invest our own money in every share or fund that we recommend in "Market Analysis" and "International Investor".
Having followed all of his own investment advice, James Cornell is now an independently wealthy investor living offshore.
Investors can subscribe to the PRINT and/or ELECTRONIC versions of our newsletters and/or the Online Share Selection service.
We are so confident that "Market Analysis", "International Investor" and/or the Online Share Selection will make you a more successful stockmarket investor that we offer you a 100% 30-day Money Back Guarantee of satisfaction. Or a pro-rata refund at any time after the first 30-days. Unconditionally. No questions asked.
© 1997-2017 Securities Research Company Limited